When a Compact Loader Just Won't Do: Wheel Loaders Still Hold Sway on Jobsite
Though compact loaders continue to gain in popularity, standard wheel loaders are still a staple on the jobsite, thanks to their heavy-duty loading abilities.
But just as their compact equivalents are becoming more versatile and adding new technology, so too are these trusty workhorses.
The newest models are coming with such features as obstacle detection, tablet-like touchscreen displays and a variety of attachments.
Juston Thompson, senior product manager, Hyundai Construction Equipment Americas, says machines up to 3.5 cubic yards are more likely to be used with attachments such as mulchers, buckets with thumbs or grapples, and rakes. "Compared to compact equipment, small- to mid-size wheel loaders offer more capacity in these applications," he says.
And speaking of buckets, one manufacturer has even come out with a "transparent" one, using advanced technology that enables the operator views into the typical blind spots.
For customers considering a wheel loader in addition to or instead of a compact loader, John Dotto, product application and training specialist, Wacker Neuson, suggests three key considerations:
First, is the wheel loader compatible with the attachment now in use or projected for future use?
Two, can you trailer a wheel loader, which is likely longer, wider and taller than a skid steer?
Three, given that the learning curve to operate a wheel loader is shorter than for a skid steer or compact track loader, is that an advantage for your operation? If you have frequent turnover and often have lesser-skilled operators, the relative simplicity of a wheel loader can be a real advantage.
Here's a look at the latest models and features from some of the top manufacturers:
Cat's new models
The new Cat 980 and 982 have Cat Payload, which includes low-lift-weigh and manual tip-off functions. Optional Cat Advanced Payload adds Lists-Management, Multitask- and Manual-Add Modes and Tip-off assist.
The 980 XE and 982 XE models have continuously variable transmissions, the first in this size class. The design uses a direct mechanical path from the engine to the wheels with a Hystat variator and can improve fuel efficiency up to 35%.
The 980 and 982 models have 1,000-hour maintenance intervals. Remote Troubleshoot allows remote diagnostics, while Remote Flash ensures machines are running the most up-to-date software. Customers can install updates at the best time for their operations through the Cat Remote Services Web Portal.
With Autodig, the entire bucket loading cycle can be automated, while Autodig with Auto Set Tires can significantly reduce tire slip.
Doosan's "transparent bucket"
Cabs on the new -7 Series machines from Doosan have 14% more glass, improved HVAC airflow and an adjustable 8-inch monitor with integrated rear-camera view.

All Doosan -7 Series wheel loaders have the same cab layout with important and frequently used controls relocated for more intuitive access, a standard variable-speed, reversible fan that is adjustable from the Doosan Smart Touch screen, an optional automatic lubrication system and the Doosan Smart Guidance System that helps operators improve their efficiency.DoosanDoosan's Situation Awareness Technology (SAT) 2.0 monitors multiple systems to provide optimal performance and fuel efficiency. The operator can tap a button or push the accelerator past a detent to move up one mode (Economy to Normal or Normal to Power).
Doosan's Transparent Bucket uses one camera mounted low on the frame and a second mounted high on the cab. Software stitches together the two views to enhance visibility in front of the bucket. The system also has object detection.
Transparent Bucket can be retrofitted to existing machines with a kit that includes a monitor and an electronics module that interfaces with the loader's CAN bus.
"Doosan is working toward our Concept-X integration and automation of the worksite," says Aaron Kleingartner, dealer and product marketing manager, Doosan Infracore North America. "Our Transparent Bucket feature fits right in with that."
Customer feedback drives Case updates
Case G Series loaders have updated features including a tablet-like touchscreen display, configurable buttons in the armrest, adjustable electrohydraulic controls and a fully integrated OEM payload system that improves load accuracy and provides detailed reporting.

Case G Series loaders have a new touchscreen display that provides machine information and convenient access to operational controls, a new Smart Power Mode with enhanced communication between the engine and transmission to improve fuel efficiency and reduce wear, and enhanced telematics and integration with the Case North American Uptime Center.Case CEAlso new is the tire pressure monitoring system that shows pressures on the display and issues an alert for out-of-range readings. Power modes have been reduced to two: Smart and Max.
"These features came from feedback from customers and dealers," says Andrew Dargatz, product manager, Case. "The result is increased productivity and uptime with decreased operational elements that hinder performance and profitability."
Mecalac goes bigger
The AS1600 swing loader has been Mecalac's only non-compact model. The company is now bringing its larger AS210 swing loader to North America.

The AS210 is Mecalac's largest swing loader. Bucket capacity range is 2.7 to 3.9 cubic yards. Operating weight is 33,069 pounds. It is powered by a Deutz turbo diesel engine rated at 175 horsepower. Dump height is 134 inches. Turning radius is 16 feet 4 inches, thanks to four-wheel steering.MecalacThe appearance of the AS210 is unlike other Mecalac models, more angular and less flowing. "It was always intended to be a machine for heavier-duty applications, and it looks the part," says Peter Bigwood, general manager, Mecalac North America.
As with other Mecalac swing loaders, the AS210 provides 90 degrees of loader swing left and right, has a non-articulated frame, and three-mode, four-wheel steering.
"The AS210 brings extra capacity to applications where the swing design is especially helpful such as backfilling and road jobs where it reduces the need for lane closures," Bigwood says.
Deere's three tiers
Deere is introducing its performance tiering strategy with wheel loaders. The G, P and X tier progress from basic, economical machines through machines with improved performance and comfort to machines with the latest features and technology Deere offers.

The 644 is the first John Deere wheel loader to be available in G, P and X tiers. The 644 X and P machines are now available for purchase in the U.S. and Canada; the 644 G machine is available in Canada and other global markets. Bucket capacities for the P and X tier machines are 4 to 4.75 cubic yards. (4.25 cubic yards G tier). Net power is 249 horsepower for the P and 231 for the X (227 horsepower for G tier).John DeereAs with its predecessors the 644K and 644L, the current 644 is an E-Drive hybrid with an engine-driven generator, an inverter, an electric motor and a PowerShift transmission specially optimized for use with the hybrid design. The 944K is also an E-Drive machine but uses four electric wheel motors.
Current Deere models 444 through 744 will be available in G, P and X tiers. "Those are recent models with no need for extensive modification to fit into Deere's new tier structure," says Luke Gribble, solutions marketing manager, Deere.
Komatsu's transmission advancements
"Most wheel loaders are used as loaders and are designed to feed a process," says Nathan Repp, product marketing manager of Komatsu's WA200-8 through WA320-8. "However, all Komatsu loaders have optional auxiliary hydraulics for use with attachments and specialty buckets."

The Komatsu WA475-10 has 22% more horsepower than the WA470-8 yet achieves up to 30% better fuel efficiency, thanks to the Komatsu Hydraulic Mechanical Transmission. KHMT also offers dynamic braking to reduce brake wear. Boom lift force is increased by 20% and breakout force by 8%. The new bucket design improves pile penetration and material retention.KomatsuAdam Brown, product marketing manager for Komatsu models WA320-8 through WA500-8, says the WA475-10 is the first of a new design and features the Komatsu Hydraulic Mechanical Transmission. The KHMT is a planetary gear design and provides stepless shifting. A dial sets a maximum travel speed while allowing full stroke of the accelerator for more precise control.
Other improvements include better ergonomics for the controls and switches, more glass area in the cab, and placement of the mirrors and rearview camera monitor at eye level.
Hyundai's All-Around View

Hyundai HL900 series loaders have standard bucket capacities of 3 to 7.1 cubic yards. All models are available with standard or extended reach (XT) Z-bar linkage configuration. The HL940TM and HL955TM Tool Master models use a parallel linkage for greater lift capacity, improved load stability, rapid dumping capability and enhanced visibility.HyundaiHyundai Construction Equipment Americas' A Series loaders feature enhanced onboard weighing that displays what's in the bucket plus what's in the truck. Names and target loads can be assigned to individual trucks.
An optional second monitor can be dedicated to the 360-degree, four-camera All-Around View Monitoring (AAVM) feature. The rearview system includes object detection. An optional radar further enhances safety.
Liebherr camera technology

The L580 features Liebherr's XPower continuous power split driveline. XPower is fully automatic and has no traction interruptions across the entire speed range (up to 24.9 mph forward and reverse). Power is from an inline 6-cylinder engine rated at 312 horsepower. Bucket capacity is 7.5 cubic yards, and operating weight is up to 63,490 pounds.LiebherrOptional Active Personnel Detection is now available on Liebherr wheel loaders to monitor the area behind the loader.
Brake assistant uses camera technology and distinguishes between people and inanimate objects. Warnings can be evaluated using LiDAT, Liebherr's telematics system.
Optional joystick steering is available, and customers can opt for joystick steering only, with no steering wheel or column.
LiuGong's gradual rollout
"Demand for new applications started coming in late 2018," says Hugo Chang, wheel loader product manager, LiuGong North America.
All LiuGong wheel loaders have third-spool hydraulics. Smaller models are plumbed to the end of the loader arms because they use quick connects, which require hydraulics.

The LiuGong 848H is powered by a Cummins QSB6.7 engine rated at 175 horsepower and has a ZF powershift transmission. Operating weight is 35,260 pounds, and bucket capacity is 3.5 cubic yards. Switching attachments is easy with the quick coupler, and the Z-bar linkage yields high breakout forces and stable material transport with minimal spillage.LiuGongLarger machines, which use pin-on buckets, are plumbed to a midpoint on the arms. Pilot controls are used for lift and tilt while an electrohydraulic thumbwheel controls the third valve. The company's two largest models, the 877H and 890H, are fully electrohydraulic.
Chang says new model introductions usually coincide with emerging emissions regulations. Their current Tier 4 Final models came to market in 2016 and are being replaced with European Stage V machines. Because there is no U.S. equivalent to Stage V – that is, no Tier 5 – there is no deadline for introduction and therefore no urgency to bring these models to market.
"This gradual rollout allows us to implement the change to best benefit LiuGong, our dealers and our customers," says Chang. "All our North America wheel loaders will likely be Stage V machines by 2023."
Volvo boom kickout, return-to-dig
Boom kickout and return-to-dig are key features on Volvo loaders. Boom kickout height is set by the operator and is operated with a single stroke of the lever.

Volvo Construction Equipment is making its Load Assist machine control compatible with wheel loaders from the L60H to the L350H, including the L220H shown. Load Assist apps are operated via the Volvo Co-Pilot through the in-cab, 10-inch, high-resolution monitor. Calculator, Notes and Weather are called Toolbox Applications; tire pressure monitoring is also included. The Map app gives machine position and inter-machine telecommunication to provide real-time site activity.Volvo CE"It's especially helpful when loading trucks at the same height for extended periods of time," says Eric Yeomans, product manager for wheel loaders, Volvo CE North America.
Return-to-dig puts the bucket at the same position, again with a single lever stroke. Control sensitivity can be set to Soft, Normal or Active.
Lockup characteristics of Volvo models L110H through L260H can be set by the operator using OptiShift. The new lockup torque converter coupled with Volvo's Reverse By Braking feature provides smoother directional changes, less driveline strain and greater fuel efficiency.
Wacker Neuson eases attachment switches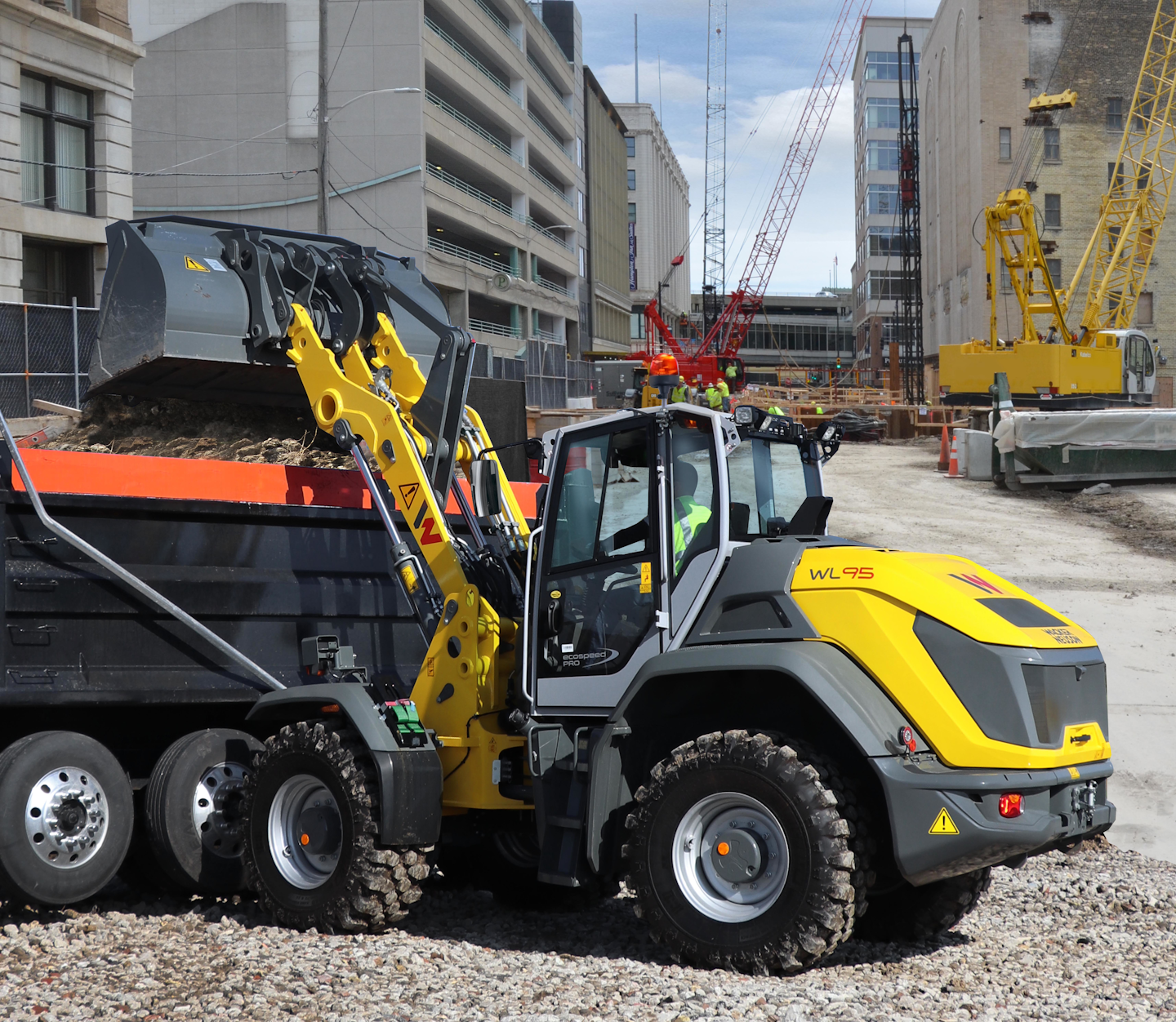 The largest Wacker Neuson articulated loader, the WL95, has a 2-cubic-yard bucket, 136-horsepower engine and Ecospeed PRO continuously variable hydrostatic transmission providing travel speeds of up to 24.8 mph. Flow to attachments can be easily adjusted using a jog dial. The articulation joint and pendulum rear axle provide a 96.5-inch inside turning radius with optimal traction.Wacker NeusonWacker Neuson puts a universal skid-style plate on smaller loaders, allowing attachments to be changed from the operator's seat.
As the name suggests, this mounting plate is compatible with a range of attachments and work tools used with skid steer and compact track loaders.
Electrical and hydraulic connectors are standardized across Wacker Neuson models to further enhance compatibility.
Hitachi offers control options
Michael Winfield, product and applications manager, Hitachi Construction Machinery America (HCMA), says control configuration options vary by model. They can include three-spool control valve with multifunction and auxiliary levers; three-spool with two levers; four-spool with multifunction and auxiliary joystick; and four-spool with two levers and two auxiliary levers.

Key features on the Hitachi ZW220-6 include lift arm auto lever that allows the operator to set boom kickout via the multifunction screen, joystick steering, parallel/tandem hydraulics for more efficient lifting and dumping and a shift-to-hold switch that overrides automatic settings and allows the operator to hold the transmission in its current gear.HitachiApproach Speed Control automatically increases lift-arm speed while maintaining drive speed, and Intuitive Rim Pull Control provides additional power as required to boost breakout force in digging applications. Torque proportioned differentials minimize wheel slippage.
HCMA features also include ground-level-accessible grease points and an automatic reversible cooling fan and wide-fin cooling core.
Yanmar adds comfort

The V12 is Yanmar's biggest wheel loader. Bucket capacity if from 1.57 to 2.35 cubic yards. Operating weight of this 100-horsepower loader is 15,432 pounds. A quick coupler is standard as is joystick control with third and fourth control circuit in one hand. Both axles have automatic-locking differentials. Hydrostatic drive provides infinitely variable speed control forward and reverse as well as an inching pedal.YanmarYanmar has one model in this size class, the V12. Its rubber-mounted cab includes HVAC, extra high-back suspension seating with lumbar support and two doors for easy access.
The joystick provides third- and fourth-spool controls. A central lubrication system is available.
Takeuchi focuses on owner-operators
Takeuchi also has one model in this range, the TW95. Features include a cab with air-ride suspension seating, two-speed travel and an inching pedal.
Top travel speed is nearly 25 mph; the inching pedal maintains engine speed while metering travel speed.

The Takeuchi TW95 is powered by a Deutz TCD 3.6 liter inline 4-cylinder engine rated at 114 horsepower. Differentials are 100% locking; 12 degrees of center pin oscillation allows equipment movement while keeping the operator's station stable. Hydrostatic drive provides up to 24.8 mph travel speed and dynamic braking, slowing the loader as the operator backs off the throttle. Linkage is Z-bar for greater breakout and loader arm forces.TakeuchiStandard automation features include boom height kickout, return-to-dig and automatic bucket positioning.
"We make all our wheel loaders comfortable and easy to operate since many are purchased by owner-operators," says Lee Padgett, product manager.
Did you miss our previous article…
https://www.neiloganconstruction.com/?p=330